Welcome to the MLS, Inter Miami
I couldn't be more excited about this. I feel like it has been forever since I first heard that David Beckham was installing an expansion MLS franchise in Miami, but then nothing ever really happened. Other expansion franchises have since joined and have actually done really well, but now, the wait is finally over. Enter "Club Internacional de Futbol Miami" aka Inter Miami.

Now, admittedly I don't watch much MLS, currently. I'm a huge fan of soccer, but I spend my time rooting for Liverpool FC and watching the English Premier League. Does that sound pretentious? Yeah, probably, but watching the MLS after watching the EPL is like going to a Triple-A game after an MLB game. The talent level is just different. However, I've been wanting to get into MLS, since I live in the US. I just wanted to wait until this Miami franchise was entered into the league so it could align with my other teams. (Why I root for Miami based franchises is a story for another time) And, today's the day! I am officially a fan of Inter Miami.

The good news is the club name and crest have officially been debuted and they're fire. The bad news is that Inter Miami isn't actually going to enter the MLS until the 2020 season, so there's still some waiting. But, there's a lot that goes into bringing an expansion team into a league; I get it.

Anyways, let's get to the name and crest breakdown. The name "Club Internacional de Futbol Miami" is perfect. I've only ever visited Miami once, but even with that limited experience, I can tell you that it's essentially a Spanish-speaking city. David Beckham hit it on the head. Any sports franchise should reflect the people of its city. Plus, Inter Miami sounds awesome.

Here's the crest breakdown that Inter Miami posted on their social media for the release: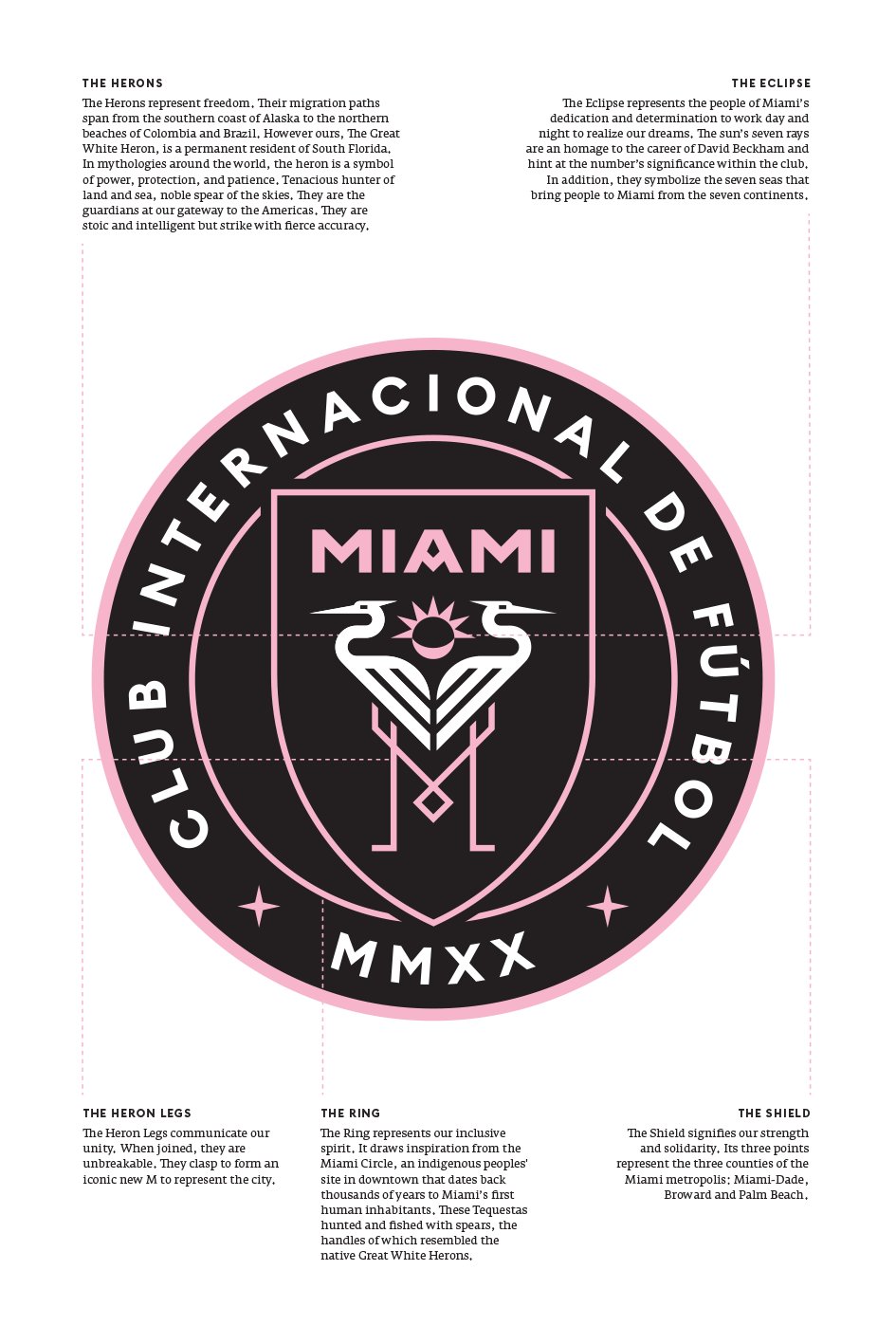 *Fire Emoji*

There are two things that a soccer club's crest should accomplish. It should represent the atmosphere of your club and it should look clean and crisp. Inter Miami went above and beyond. You can read their explanation of the symbolism in the crest, but aesthetically it's just pleasing to the eye. No color combo looks cleaner than black and white. Throw in the light-pink to get the "Miami Vice" feel and we've got a winner. Shape-wise, most clubs go with either a circle or a shield, but Miami opted for both, which helps frame the herons in the middle and give the whole thing a bit of a 3D feel. Again, well done, Beckham.

The only thing left to see is the kit. I don't really see how they could mess this one up with that color scheme. (The thought of a light-pink third kit might break my bank) I just hope that they keep the clean look that is prevalent in their crest. MLS's latest franchise, LAFC did an amazing job with their kit. It's simple, clean, and has a cool sponsor. Let's hope Inter Miami follows suit.

I can't wait for 2020. Let's go Inter Miami!
---